Over 45yrs of Manufacturing and Metal Supply Experience
Explore our range of services as well as an extensive inventory and a variety of processing capabilities that we've added to continuously over 45 years.  Our manufacturing capacity and supply of steel products will keep your operation running.  Our people and our service will make us your preferred supplier.
BEVEL CUTTING WITH PLASMA
Services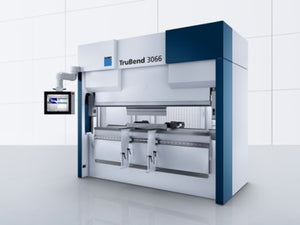 Precision Braking
The Trumpf TruBend allows us form sheet metal parts repeatedly within several thousandths of an inch!! Your parts will be exactly braked as you need them.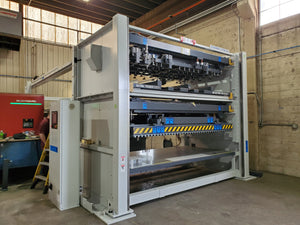 Mitsubishi 8K Fiber laser w/automation
With capacity up to 1" on carbon, aluminum, and stainless steel, this machine will get your parts in short order and with high precision. Way faster than a waterjet and quick lead times. Give us a look at your production parts before you order the next set!!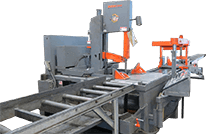 Precision/Production Sawing
Handling sizes up to 18", our automatic saws can save you tons of cut time while providing clean edge and accurate cuts. Miters are not a problem and sequenced cutting/staging is something we're glad to do.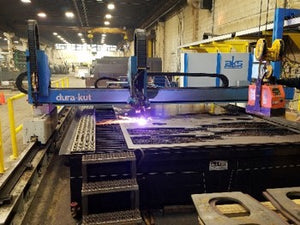 Plasma and Bevel Cutting
With our AKS Plasma system, we can plasma cut your steel plates up to 2" thick and oxy-fuel cut even thicker. And, this machine can bevel so you're fit-ups are much nicer and field grinding for welding is completely eliminated! Weld bevels, part marking, bevel with landings or full bevels are all possible.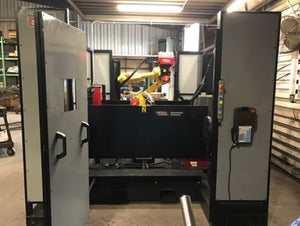 Robotic Welding (2 now in production)
When an assembly needs to be done in the hundreds or thousands, our robotic cells can handle the work!  We can weld your part, multiples at a time to help drive down cost, improve quality, and ensure even flow of products to your dock.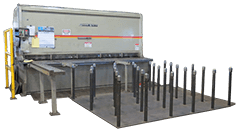 Other services...
We can also shear, saw, roll and deliver your products to you or your jobsite within our service area. Or you can pickup at our shop which is easy to get in and out of in no time.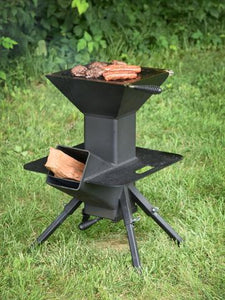 Watchman Stove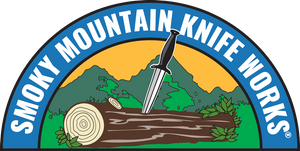 Distributor for Smoky Mountain Knife Works!!!
When you come to our sales counter, feel free to grab a quality knife from our collection at a great price!!!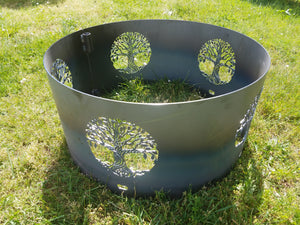 Fire Rings
Our 1/8" thick steel rings are quite popular and last for many years. Laser cut graphics provide really detailed designs. Many pre-programmed designs available and also custom designs done by request for an additional charge.
Fire Ring Store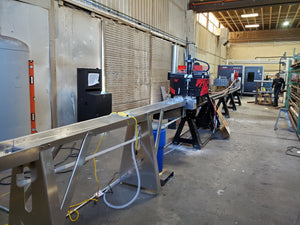 Dragon Plasma Tube/Pipe Cutting System
We can cut your tube and pipe with holes, copes, angles, etc in one step with this machine. Save yourself setup time and field measuring by sending us your specs and letting us do it for you. We can also etch and part mark as needed.Dragon in action here!!
I am not sure how many people in this area appreciate what you do at Winchester Metals. I sure do! You supply a wonderful selection of high quality metal, the staff is a pleasure to work with and the capability to fabricate small jobs like this one quickly and at a reasonable price is priceless . This is a formula for growth not just for Winchester Metals but for small companies like mine . Winchester Metals is one of my best resources for systems development .

~Greg Kope, Multilink Systems, Inc
I have had excellent service from Winchester Metals since 1986. As a small consumer with occasional specialized requirements, I have been especially appreciative of the lengths to which the sales and tech staffs will go to find needed materials in small quantities, and to organize specialized cutting and forming operations . Orders are always processed quickly, efficiently and knowledgeably. Additionally, the warehouse staff and specialized equipment operators have always gone the extra mile in providing courteous, helpful, professional and expeditious service and assistance.

I strongly recommend Winchester Metals, and without reservation.

~ Michael P. Wilson, Blacksmith and Bladesmith, Proprietor, Wilson Forge
Having worked with Winchester Metals for the past two years, I am looking forward to many more years to come! Experiencing the growth we have over the past two years would have been very difficult, if not impossible without Winchester Metals' support. Being a job shop, with a relatively short lead time on our products can be a challenge at times. Winchester Metals is always there for us! When they promise a delivery, they meet it and that reliability is priceless! They are professional, knowledgeable and courteous and a pleasure to work with. Thank you for all of your support! We appreciate all of you!

~ Greg Fox, Purchasing Manager Provides US Inc.
Winchester Metals has gone out of their way to accommodate the diverse needs of our Job shop. We need suppliers who will take ownership in our projects and stand behind our commitment to meeting customers' due dates.

No supplier we have dealt with has come close to combining the excellent communication, expertise and on-time delivery that Winchester Metals provides.

~ Matt Hahn, Fabritek